A BareBones WorkWear® Franchise Benefits from Multiple Revenue Streams
Multiple revenue streams are important to any franchise business. With multiple offerings, these unique opportunities sets BareBones franchisee's apart from the competition.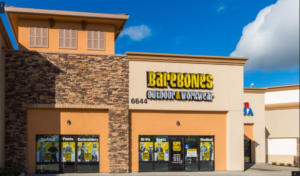 In Store Retail Sales
Retail store with a full line of workwear clothing, outdoor wear, medical and police tactical uniforms, accessories and more for men, women and children.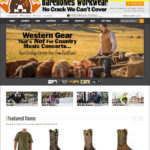 Online Retail Sales
Workwear clothing website with over 400,000 items available at BareBonesWorkwear.com

Embroidery and Screen Printing
Provides a One-Stop Embellishment Services Personalization Shop. We have an entire department ready to decorate any garment.
An in-store customer computer kiosk allows easy selection of name brand clothing and apparel, as well as generic T-shirts and caps and other accessories, while designing custom artwork. Customers transmit their custom order, pay the store and have their decorated order for their staff, school team, church, doctor's office, restaurant staff, or charity group delivered directly to their door.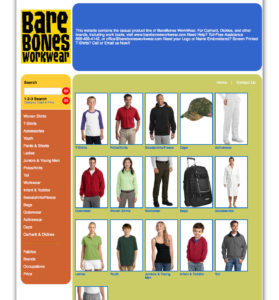 A separate web site – www.barebonesimprints.com – and customized catalog is used for generic products to market spiritwear, teamwear and brandwear.
The added value of personalizing product is not only an extra revenue stream, it provides a competitive advantage by accommodating the needs of small businesses, schools, church & social groups.
Extended Aisle Kiosk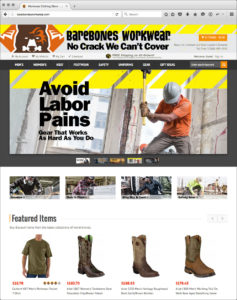 Profits derived from in-store kiosk sales and internet sales in your territory. Self-service computer units in a slick display enables customers to shop for over 400,000 additional items online at www.barebonesworkwear.com. The in-store kiosk also functions as a process to order embroidery or screen printed items.
Outside Sales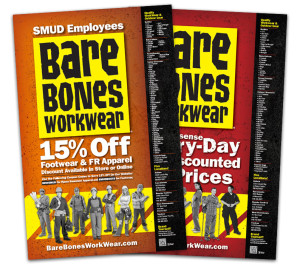 Outside sales are an opportunity for the entrepreneur minded person to get out and create the relationships that will last. Direct industrial sales to manufacturers, hospitals, utility districts, water districts, community colleges, and state agencies for specialized bulk purchases and embellishments.
Bids
Private and government bids for all products in your community. Another revenue stream.
Niche Marketing Opportunities
Examples include hospital scrub shows, mobile Boot Truck for private enterprise buying events, key business accounts with government agencies and large companies.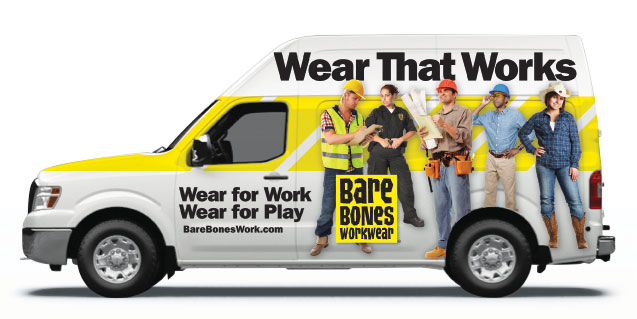 National Accounts Program
Key accounts normally issue vouchers for individual sales to their staff or purchase in bulk. We have removed the hurdles associated with opening accounts, checking for credit, and collecting payables for you by having a national program. Franchisees get paid for these approved accounts within 30 days without the hassle of managing receivables. Additional revenue stream.
For more information on multiple revenue streams for this workwear clothing franchise, check out our franchise Frequently Asked Questions page, Fill out the Quick Guide form or give us a call at 916-287-9100 today!