Frequently Asked Questions
Q: How is BareBones strategically positioned in the retail industry?
A: BareBones is the superior provider of useful products for life, work and outdoor lifestyles. We take an unpretentious approach to everyday low pricing, while encouraging a fun and cool environment. Many added value programs promote customer loyalty. Locations range from moderately convenient destinations to retail centers.
Q: What makes BareBones stores so different from Boot Barn® or my local outdoor sports store?
A: We think BareBones surpasses the competition by focusing all programs on the needs and added value for a broad market. The concept of being customer-centric touches every level of customer interaction and service. We are also open to trying innovative products, broadening product selection and accommodating special ordering programs.
Q: Is a workwear customer different than a uniform customer?
A: The uniform industry typically targets the tactical and postal carrier markets. These include police and fire fighters. Uniform shops usually have an onsite seamstress or tailor. WorkWear comprises a general and much broader market.
Q: Why is BareBones a special investment?
A: This concept is fresh and exciting. We believe the brand is appealing to most markets and our systems and training make it easy to start up. We believe a successful franchisee will enjoy the daily details of customer service and enjoy the system support and deliverables from us, the franchisor.
Q: Will I need to quit my current career?
A: This business requires a solid key operator and two others trained in retail customer service processes and product knowledge. Manage the manager is just one type of set-up.
Q: Do I need prior experience in the retail industry?
A: No! Owners can come from diverse backgrounds, including former corporate executives to be first-time business owners. Our initial training is designed to teach you the skills necessary to operate a profitable business.
Q: How does the national website – www.barebonesworkwear.com – affect a franchisee?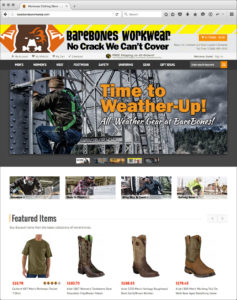 A: The BareBones WorkWear national brand website (link) is a huge asset for each franchise store. Not only does it show the locator of each store, it provides real-time inventory of each store for the convenience of the online shopper.
A franchise receives a share of the profits from each online order placed in their basic territory area. This also includes sales from the store kiosk. In the future, it will likely be possible for a franchise to ship product for an online sale for a greater share of the profits.
Capital Requirements
Q: What amount of capital will be required to open my store?
A: Including the initial fee of $35,000, your total investment can range from $383,500 to $541,000 providing you negotiate within the startup recommendations.
Q: Why do the start-up costs vary beyond the initial fee?
A: There are three categories to start your business: Store Improvements, Inventory and Start-up Capital.
Store materials & improvements include leasehold/tenant improvements, construction costs, fixtures, computers and software, security system, signage.  The landlord may contribute to these expenses and free rent through effective lease negotiations. Although we cannot promise this savings, we have been extremely successful saving thousands of dollars and reducing start-up costs significantly.
Inventory will be based on the fixtures, store layout, season, and your purchase preferences. Initial inventory, for example, can vary between $160,000 and $170,000 per store.
Start-up Capital includes deposits, starter kit, advertising, rent deposits, utility deposits, working capital etc., which are outlined in your start-up checklist.
Q: How long will it take to open my store?
A: Upon your decision to own a BareBones WorkWear Clothing Store, our real estate team and store build-out coordinator will assist you in each area to target 30 to 90 days opening with a cost-effective result. These individuals are skilled in identifying the right store location, but they will also rely on your resourcefulness and local assistance. You will also schedule training dates for you or your key operators.

Income/Expenses
Q: What will be my monthly overhead and break-even point?
A: At the appropriate time in the interviewing process, you will discuss with BareBones your pre-ownership business plan, which contains the financial aspects of purchasing inventory, pricing, fixed and variable expenses and your bill paying calendar.  Respectively, each franchisee differs monthly to market rent, salaries, advertising, loan repayment and personal business choices. Your goal is to oversee a low monthly budget and accelerate your break-even point.
Q: What about financing?
A: Funding now available!
Our resources will guide you to the best type of financial assistance, tailored for your individual needs. Aside from conventional loans backed by personal collateral, our resources will show you how to finance your business with a variety of choices that suit your particular financial situation.
Q: Where will the store be located? How does this happen?
A: The first day after you join The Tribe, our agents begin scouting for your perfect store location. At no cost to you, yet working with you, they have the tools, relationships and know-how to narrow down the possibilities.
Q: Do I have to do the building and physical organization?
A: Welcome to the Turnkey Build-It & Set-Up Program. Your store delivered!
We will manage the entire build-out, and set-up of your store, so all you do is turn the key and turn the open sign on. Our team of construction management experts, project leaders, and installers will completely manage the plans, construction, coordination and implementation with design experts, architects, contractors, your landlord, utility agencies, and supply vendors.
Your store will be completely set up with signs, fixtures, displays, computer system, security system, supplies and merchandise. Our goal is to be under budget and on schedule, while you concentrate on the marketing and operations of your business.
Are you ready to take the next step, would like to know more about the franchise process or need more information about BareBones Franchise? Fill out the Free Quick Guide form or give us a call at 916-287-9100. It would be great to hear from you!