We provide Franchise Support from the Get-Go to the Retail-Detail!

Our clothing store franchise support programs are designed to give you all the tools you need to be successful in the BareBones system.
Business Plan
Banker's love business plans. And, one of the best exercises for knowing how your business will develop is creating one yourself – with our help. We will provide the template and guide so you can create your own plan.
Real Estate
The first day after you join the Tribe, our agents begin scouting for your perfect location. At no cost to you, yet working with you, they have the tools, relationships and know-how to narrow down the possibilities.
We use our location qualification tool to score each possible spot, then analyze the forecast with the costs. Our lease negotiation process is designed to save you money over the long time.
Click Here to See The Benefits of Lease Negotiation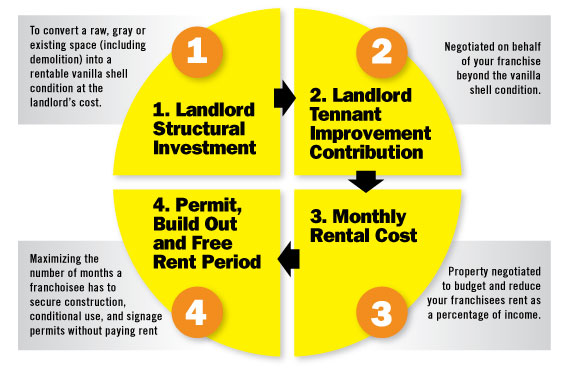 Negotiated Financial Savings:
Low
Medium
High
1. Landlord Structural Investment:
As is
$1,000 – $30,000
$31,000 – $100,000
2. Landlord Tenant Improvement Contribution:
$1,000 – $10,000
$11,000 – $30,000
$31,000 – $100,000
3. Monthly Rental Cost:
$300 – $18,000
$500 – $30,000
$8000 – $48,000
4. Build-Out and Free Rent Period:
$8,000 = 2 months free
$16,000 = 4 months free
$24,000 = 6 months free
Total Negotiated Savings:
$9,300 – $36,000
$29,500 – $104,000
$86,000 – $272,000
Franchisee Results: Franchisee benefits by reducing their start-up costs and preserving working capital that might otherwise be used on inforseen start-up construction, permitting, rental and asset costs.
Certification Training
You and your key staff will train with us for 2 weeks to learn the ins and outs of a BareBones WorkWear clothing franchise operation. Additionally you will have tapes, online modules and reading materials to go over at your own pace at home.
The Turnkey Build-It and Set-Up Program
Your workwear clothing store delivered!
We will manage the entire build-out, and set-up of your store, so all you do is turn the key and turn the open sign on.
Our team of construction management experts, project leaders, and installers will completely manage the plans, construction, coordination and implementation with design experts, architects, contractors, your landlord, utility agencies, and supply vendors. Your workwear clothing store will be completely set up with signs, fixtures, displays, computer system, security system, supplies and merchandise.
Our goal is to be under budget and on schedule, while you concentrate on the marketing and operations of your clothing store business.
Purchasing Advocate
One of our experienced purchasing guys will be assigned to assist you with your purchasing. They will keep you up to date on vendor changes and guide you with best practices ongoing. This support is the key to helping with your sustainable future.
Store Liftoff – With a Soft Opening
Our field staff will be on site with you for 10 days prior and during your first day in business.
Track 2 Profit
One of our execs will connect with you once a week for 12 weeks following your store opening. Your 1 on 1 coaching time will keep you accountable, on-track, and connected. Every business point that's important will be discussed and monitored.
Learning Zen™
Our online modular training program teaches your staff everything from how to greet each customer to the difference between a harness boot and an engineer boot.
MACH
One of our guiding principles is to be forward thinking with technology. Our newly installed ERP (Enterprise Resource Planning) software system integrates front register procedures, accounting, and CRM (Customer Relationship Management). MACH is the backbone of BareBones.
The Mirrors
Helping you help yourself. Ongoing programs provide the mirrors for constant improvement and accountability. Mystery shoppers, field operations specialists, quarterly financial analysis, inventory red flags, weekly dashboards, cash flow budget checks, and CQI (Constant Quality improvement) programs are all designed to keep your goals on track.
Concerned about how you will finance your new store?
Check out our Franchise Financing page.
If you have any more questions about being your own boss and getting into the workwear clothing store business, check out our Frequently Asked Questions page.