Wear the pants in a growing industry as a BareBones Workwear® clothing store franchise owner
Interested in franchise opportunities in California? BareBones WorkWear® is more than your typical apparel franchise. Our concept serves a growing population of blue-collar workers who rely on durable, high-quality gear to keep them safe and comfortable on the job. In fact, we like to say that there's no crack we can't cover! At the same time, we're revolutionizing retail with a convenient "No B.S." approach our customers can trust, and we invite qualified individuals to join us in that mission. As we continue to grow through franchising, we're awarding immediate franchises for sale in California for the right candidate.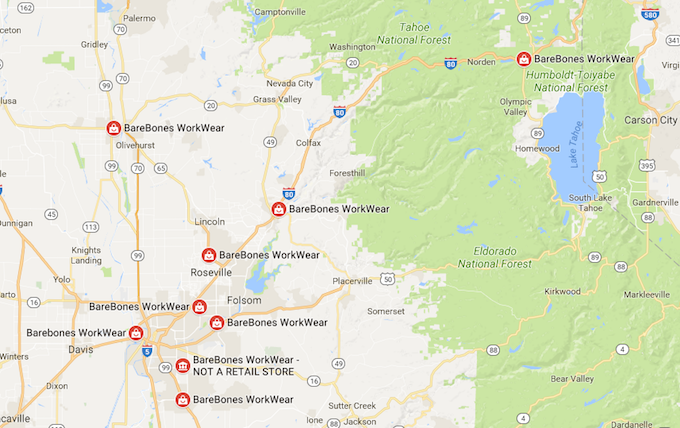 Eight BareBones Clothing Store Locations in California
Roll up your sleeves and work your way to the top with our clothing store franchise
If you've been scouring your network to find a business for sale in the San Francisco Bay Area, scanning the Web for a viable business for sale in Sacramento, or seeking the best business for sale San Jose has to offer, look no further than BareBones WorkWear®. Our engaged franchise support team, refined retail model and authentic outlook make us one of the top franchise opportunities in CA!
Why should you invest in our franchises for sale in California?
We could go on and on about how BareBones WorkWear®'s breakthrough apparel franchise model is designed for you to win, but here are just a few benefits of investing in our franchises for sale:
● Unparalleled support as you launch and grow your clothing franchise
● Consistent customer base
● Multiple revenue streams
● Manageable inventory structure
● Minimal startup costs
● Fun, exciting culture with a brand that is growing
● And more!
Let's talk about our franchises for sale in California!
We currently have 8 clothing stores in California and we are looking to expand the brand rapidly. The California market is going fast! If you're interested in investing in a business for sale in San Francisco, Los Angles, San Jose, Oakland, Fresno, Chico, Redding, Vacaville and other areas throughout California. It's time to connect with a member of the BareBones WorkWear® team. We'd love to speak with you about available California franchise opportunities. Be part of the legend.
We also have clothing store franchise opportunities in Texas. Give us a call today at 916-287-9100 or fill out the form on the right to find out more.