Unique Franchise Investment Opportunity
BareBones WorkWear® clothing store franchise offers exciting business parameters that virtually no other retail business can offer.
No-Fad Products – Useful line of workwear clothing and footwear are not fashion driven
A niche market that relies on consistent service and product base
Low initial investment
Low monthly overhead
Low break-even point
1 to 4 employees
Flexible ownership
Simple operations
Very few fashion changes
Multi-unit franchise opportunities
Huge savings on co-operative buying and freight strategies
Technologically advanced
Help with Store Locations
Store Location Qualification Tool
Untapped Market/The Workwear Industry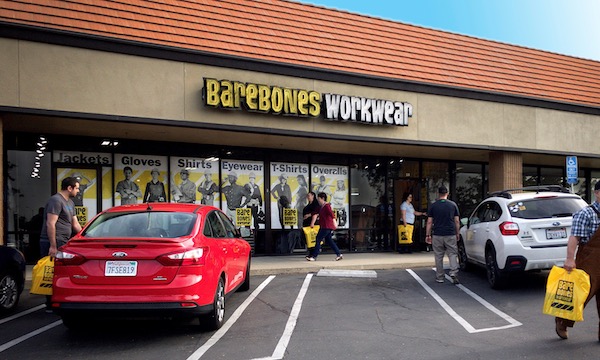 Not only are there few retail clothing franchises, but most specialty workwear stores are chain-owned. Until now, those chains and the established independent stores held the keys to product knowledge, vendor relationships, getting the best deals, buying power, marketing direction, and operational systems.
A BareBones WorkWear® franchise is designed to incorporate all of the power, know-how, systems, technology, and resources of the chains.
BareBones WorkWear® Franchises – Benefits
The BareBones WorkWear® Chain

Product Selection
Flexible and diverse, but tailored to the location and market. Customer driven.
Purchasing
Purchasing advocate — PO's generated by store through BareBones with most vendors.
Pricing
"PreDiscounted" — BareBones Branded approach to no-nonsense, everyday low prices.
Store Merchandising
Focused on customer's needs.
Added Value Sources of Revenue Opportunities
Embroidery/screen print, boot trucks, kiosk, government bids, outside sales, internet sales.
Community/Social Involvement
Encouraged — environmental concerns, local sponsoring.
Health Care
Health care — optional due to size, costs optional.
Cost Of Goods (Price Levels)
Excellent due to co-op volume. Excellent freight expense cost levels.
Customer Experience
Flexible. special orders. Focused on customer needs marketing.
Loyalty Programs
$10 reward for $200 spent in semi-annual periods. Additional campaigns used in Eblast marketing.
Social Media
Aggressive campaigns; early stages of development.
Web Site
Shows individual store inventory.
If your looking to invest in a unique franchise opportunity with proven results, contact BareBones WorkWear®. For more information on a workwear clothing store franchise, check out our franchise Frequently Asked Questions page, fill out the Quick Guide form or give us a call at 916-287-9100 today!