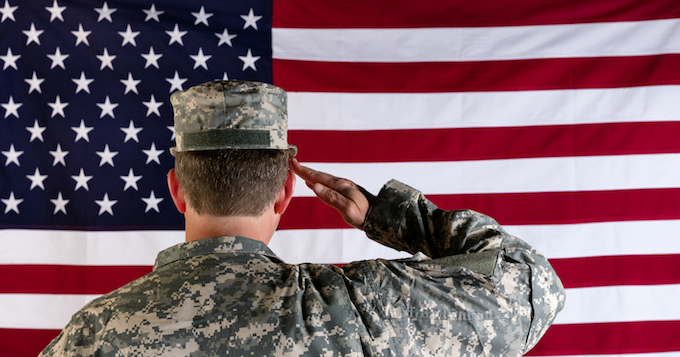 BareBones WorkWear® loyally serves the muscle and backbone of America, as one of the leading providers of quality gear and workwear apparel for blue-collar workers. However, our apparel franchise network wouldn't be nearly as dynamic without contributions from the heart of America – the brave men and women of our U.S. Armed Forces who join our program as franchisees. Characterized by fierce passion, determination and commitment, military veterans are prime assets to our franchise community.
"Selecting a good partner is our highest priority…in the end, it's the heroic measurements of a candidate that influences our decision to award a clothing store franchise. With all the doom and gloom about the current retail environment, it takes a very brave person to see a challenge and call it an opportunity. Veterans do it with ease."
– Stuart Nelson, CFE, Founder and CEO, BareBones WorkWear®

We're one of the best franchises for military veterans
This "no frills" clothing retail franchise opportunity stands with those who have served in our Armed Forces. So much so, that we are a proud member of VetFran, an initiative developed by the International Franchising Association that provides franchise opportunities for veterans and their spouses.
As part of this program, BareBones WorkWear® offers a 10% discount off the initial franchise fee for qualified U.S. military veterans.

U.S. veterans make excellent apparel franchise owners with BareBones WorkWear®
BareBones WorkWear® apparel franchise owners are a special bunch. They know the satisfaction of a job well done, as well as the role that durable gear plays in its completion. More importantly, many of our owners are former electricians, servicemen and construction workers themselves, so they can relate to the grit and authenticity that our customers possess. Since we launched our franchise program in 2013, we've noticed that veterans are of the same ilk – readily able to empathize with some of the hardest workers in our communities.
"The BareBones® concept is fresh and unique, and it keeps me connected to the down-to-earth men and women I know so well. This blue-collar niche is ours to own. The founders had a vision and have laid it out very carefully, giving me and other veterans a chance to be part of something special – something different."
– Brett Parent, veteran of the Air Force Reserves and BareBones WorkWear® franchisee
With our franchise support and systems, veterans become mindful BareBones WorkWear® owners, local points of contact for reliable apparel and savvy curators of positive customer experiences. We couldn't ask for more from our franchise community!
Our veteran friendly franchises are designed for you to thrive
The BareBones WorkWear® franchise team designed a comprehensive clothing retail franchise program that helps owners not only launch a thriving retail location, but redefine the market in a way that only the BareBones® concept can. Here are just a few reasons why BareBones WorkWear® is one of the best franchises for veterans:
10% discount on franchise fee and Area Development fee
Unbeatable ongoing support in operations, advertising, purchasing, merchandising and more
Interactive training systems
Multiple added revenue streams
A unique opportunity to develop lasting relationships with your community!
Learn more about BareBones WorkWear® veteran franchises today!
With the help of our clothing retail franchise model, U.S. military veterans can fulfill their dream of owning a business without sacrificing the integrity and honor that makes them great. Read more from BareBones WorkWear®'s Founder and CEO Stuart Nelson on franchise opportunities for veterans here.
Ready to get started with us? You can download our FREE franchise guide, speak with a member of the BareBones WorkWear® franchise support team or call us at 916-287-9100 today!