Franchise Financing Now Available!

Your expert financial partner, Tanner Filip at Guidant Financial, will guide you to the best type of financial assistance for a clothing store franchise, tailored for your individual needs. Aside from conventional loans backed by personal collateral, he will show you how to best finance your business and also work with your local banker. You can connect with Tanner by phone or email: tfilip@barebonesworkwear.com or 888-472-4455 x3783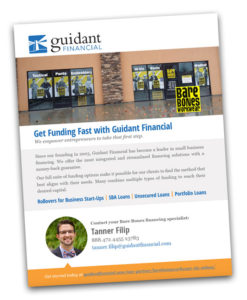 Financial Programs include:
401K Rollover Plan
SBA Loans
Securities Backed Loan
Unsecured Loans
Click here to get started!
Amounts, Eligibility, Benefits and Time Frame of these Programs
Funding Amount

Eligibility

Benefits

Time Frame

Rollovers For Business Start-ups
$40k+
$40k in eligible, rollable retirement assets [401(k), IRA 403(b), TSP, Keogh, etc]
Owner Must be a bona fide employee of the business
Debt-free way to start a business No collateral needed
No tax penalties
3 Weeks
SBA 7(a) Loans
$150k –
$5 million
640+ credit score
20-30% down payment
Industry/ Management experience
Secondary source of income (preferred)
Term loans with low interest rates Access to 3,600+ lenders
Money-back guarantee Dedicated loan consultant Single loan application
Rapid loan package analysis and approvals
2 – 4 Months
SBA Working Capital Loans
$50K –
$150k
690+ credit score
10% down payment SBA
Registry franchise (if applicable)
Executed franchise agreement prior to funding
Low down payments No collateral needed Fast funding
30 Days
Unsecured Loans
$25k –
$150k
690+ credit score
Minimal credit inquiries
Less than 50% credit utilization
Low introductory Interest rates No callateral needed
Helps build business credit
No use of proceeds requirements
3 Weeks
Portfolio Loans
Up to 80% account balance
No minimum credit score required
Minimum of $85k in securites
Stocks trading at more than $5/share

No liquidation of existing securities
Low interest rates
Deferred payments if opening new franchise (up to 24 months)
Flexibility with revolving line of credit
2 – 3 Weeks
Business Loan Package Checklist
Here's Some More Help! Download a Business Loan Package Checklist to help gather all the required documentation for financial assistance. – Click here.