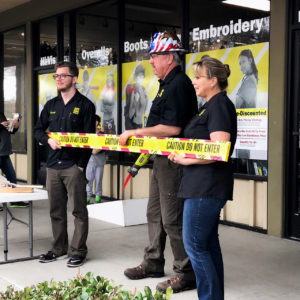 March 8, 2017 – Elk Grove, CA — It wasn't your typical ribbon cutting ceremony.  Brett and Dorothy Parent used a reciprocating saw to cut their Grand Opening ribbon at their new BareBones WorkWear® franchise store in Elk Grove.  The unconventional approach demonstrated their commitment to honoring and serving hardworking blue collar workers in the area.
This is the first of multi-units the Parents will launch in California.  Two more franchise stores will be opened by the family.  "We wanted a business that our family can grow with minus the risks of starting something from scratch," explained Parent.  "We would not have taken this path without the great support and systems the franchisors provide."
The Parent family was joined by founding franchisors Stu Nelson and Mason Moore.
Brett, a veteran, has been an Elk Grove resident for 45 years and has been in the construction business for over 30.  Dorothy has worked in the health industry for over 30 years.
According to Parent, "We welcome the chance to stay connected to the construction and health industry workers we know so well.  It means a lot when a young, new electrician or nurse walks in looking for the right shoes for their job.  We can honestly say, 'Been there done that.'  We get it!"
Find out more about this Veterans franchise.
# # #